Floor fuzzy socks
In the cold winter, floor socks are a must-have item at home. There are many styles of floor socks, including color and solid color. You can choose them according to your preference. Solid color can show simple and relaxed temperament, if you go out, you can choose your favorite style, or match the color of the clothes. Of course, the younger generation prefer the floor socks with personality, which can make them more attractive.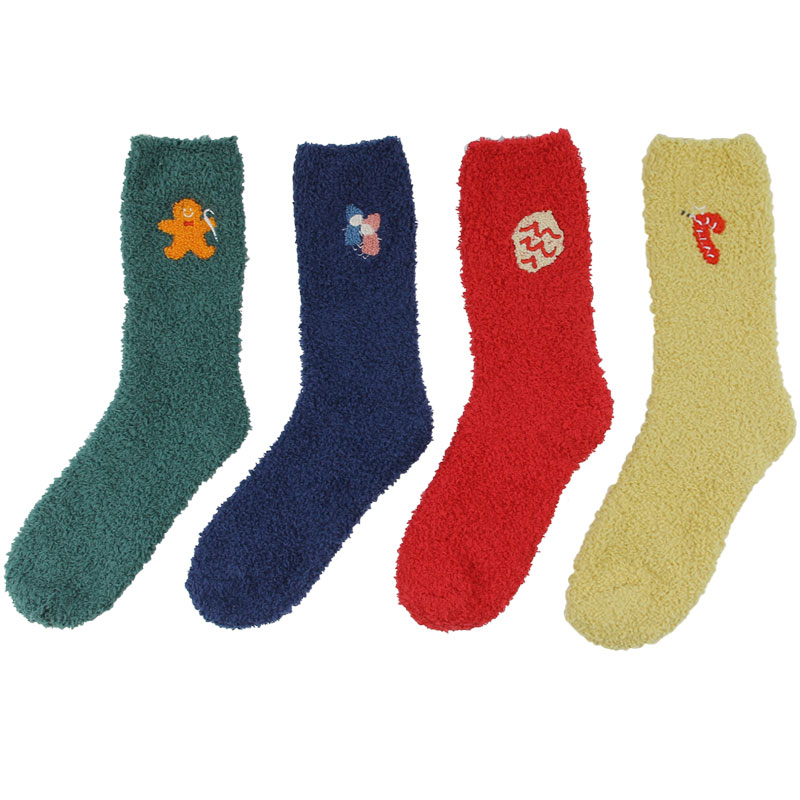 Nifty small lovely stockings
If the pure color is the representative of simplicity and lightness, then the heart embellishment added on the socks makes them full of lovely and playful. In winter, as long as a pair of socks, you can turn into a lovely elf with any kind of shoes you wear. You can't miss such a design if you like simplicity and individuality.
 College-style loose socks
Loose socks not only have a unique appearance, but also very comfortable. They must be the popular elements of winter fashion. Loose socks are especially loved by many girls. Loose socks break the traditional design, and some of them are also added stripe elements, which can make the whole look full of energy. A pair of college-style loose socks can let you return to the youth age, which are undoubtedly the hot item in winter.
 Sweetlove pattern socks
In fact, in winter, in addition to loose socks, socks decorated with love patterns are also irresistible. Love patterns can instantly let girls have a playful and lovely feeling, as to further make a very sweet atmosphere. The socks with love pattern actually are daily items, simple but charmful.
In winter, socks can be both warm and fashionable. You can choose different kinds of socks according to your own needs. Whether it's the warm floor socks or the lovely loose socks, they will both add vitality and color to your life in winter.
https://www.jycywy.com/wp-content/uploads/2021/01/Chaoyu-logo.png
0
0
CY Textile
https://www.jycywy.com/wp-content/uploads/2021/01/Chaoyu-logo.png
CY Textile
2021-05-20 09:15:30
2021-05-20 09:15:30
Socks - Winter fashion items